With the last training for the councillors from Chair and Ohrid, the implementation of the Capacity Development Programme for the municipal councillors from Veles, Sveti Nikole, Strumica, Valandovo, Cair and Ohrid municipalities, ends this weekend in Skopje.
For the past eight months, the councillors from these municipalities have been improving their knowledge and skills on 11 topics related to public financial management, human resources management, spatial and urban planning, innovation in governance, inter-municipal and inter-ethnic cooperation, gender equality and good governance at the local level.
A total of 80 councilors who participated in the training sessions received certificates for successful completion of the Capacity Development Programme for municipal councillors.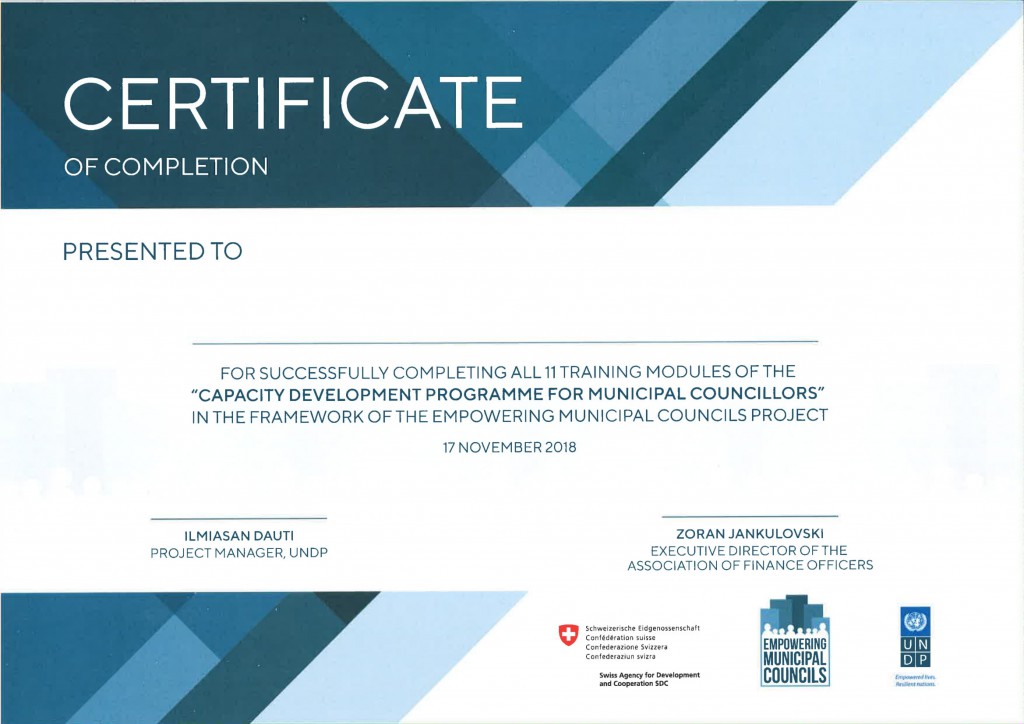 The trainings were conducted by a team of thirty experts and former municipal councillors engaged and coordinated by the Association of Finance Officers of the Local Governments and Public Enterprises (AFO).
The trainings are part of the "Empowering  Municipal Councils" Project of the Swiss Agency for Development and Cooperation with a total value of CHF 3.4 million implemented by the United Nations Development Program (UNDP) in cooperation with national and local partners.
In the next two years, this project will include additional 18 municipalities that will be selected through public calls.
In addition to the training for counsellors, a total of CHF 1.2 million is reserved for small grants intended for the realization of priority initiatives in all 24 municipalities that will participate in the project.